How to tell if a book is in stock...
"On Our Shelves Now" means yes, we have it on hand, order away!
"Ships in 1-5 days" means we sold our last copy, but more are easily available so still, order away!!
"Special Order" means it may be out of print or hard to get. Call the store to get more information from a Bookseller.

Not sure and want to double check? Be Savvy! Call and ask one of our booksellers for more details.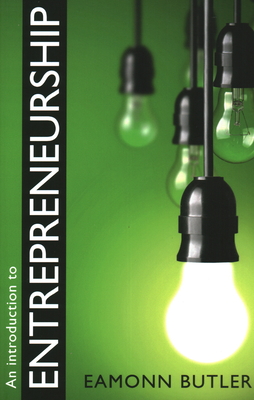 Description
---
Entrepreneurs play a pivotal role in boosting progress, productivity and prosperity. They drive economic growth and create new opportunities. Their innovations transform people's lives. Yet their enormous contribution is not widely understood - and is often completely overlooked in economics textbooks. Here, author Eamonn Butler sets the record straight - explaining the vital role of entrepreneurship, exploring its economic and social significance, and examining the conditions needed for it to thrive. Along the way, he considers the kind of "unusual" people who become entrepreneurs. Who knew, for example, that Facebook's Mark Zuckerberg, Microsoft founder Bill Gates, Apple co-founder Steve Jobs and Uber founder Travis Kalanick all dropped out of university? Or that Virgin Group founder Sir Richard Branson and IKEA founder Ingvar Kampgrad never went to university at all? An introduction to Entrepreneurship spotlights the strengths of entrepreneurship, whilst acknowledging its shortcomings. It discusses (often-misguided) attempts by governments to foster it. And it eloquently states the case for rehabilitating entrepreneurship into mainstream economics and politics. Above all, it provides an appreciation of - and a basic introduction to - what entrepreneurship is, why we need it, and how we can encourage it.
About the Author
---
Eamonn Butler is Director of the Adam Smith Institute, one of the world's leading policy think tanks. He holds degrees in economics and psychology, a PhD in philosophy, and an honorary DLitt. In the 1970s he worked in Washington for the US House of Representatives, and taught philosophy at Hillsdale College, Michigan, before returning to the UK to help found the Adam Smith Institute. A former winner of the Freedom Medal awarded by Freedoms Foundation of Valley Forge and the UK National Free Enterprise Award, Eamonn is currently Secretary of the Mont Pelerin Society. Eamonn is the author of many books, including introductions to the pioneering economists and thinkers Adam Smith, Milton Friedman, F. A. Hayek, Ludwig von Mises and Ayn Rand. He has also published primers on classical liberalism, public choice, Magna Carta and the Austrian School of Economics, as well as The Condensed Wealth of Nations, The Best Book on the Market and School of Thought: 101 Great Liberal Thinkers. His Foundations of a Free Society won the 2014 Fisher Prize. He is co-author of Forty Centuries of Wage and Price Controls, and of a series of books on IQ. He is a frequent contributor to print, broadcast and online media.
An Introduction to Entrepreneurship (Paperback)