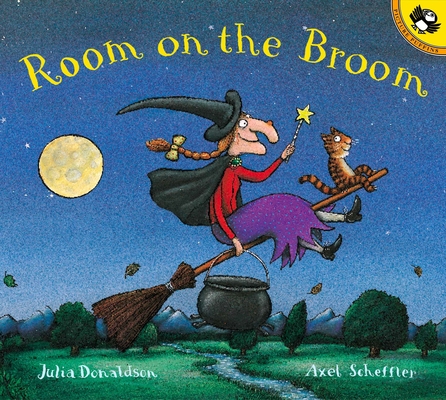 Description
---
This fun family read-aloud is a story of quick wits, friendship, and inclusivity from the creators of The Gruffalo! 

The witch and her cat are happily flying through the sky on a broomstick when the wind picks up and blows away the witch's hat, then her bow, and then her wand!  Luckily, three helpful animals find the missing items, and all they want in return is a ride on the broom.  But is there room on the broom for so many friends?  And when disaster strikes, will they be able to save the witch from a hungry dragon?

Julia Donaldson and Axel Scheffler are the creators of many beloved picture books including The Gruffalo, The Gruffalo's Child, The Snail and the Whale, and The Spiffiest Giant in Town.


"A surefire read-aloud hit." -School Library Journal
About the Author
---
Julia Donaldson is the internationally bestselling author of many popular books for children. Her Smarties Prize-winning modern classic, The Gruffalo, has sold more than 13.5 million copies worldwide, and the Halloween favorite Room on the Broom is a perennial best seller. In addition to children's books, she has written many children's plays and songs and runs regular storytelling workshops. She was the Waterstones Children's Laureate from 2011-2013.
Praise For…
---
"The story is in rhyme, bouncing merrily along, full of fun.  The illustrations are witty and wonderful.  The result is a surefire read-aloud hit." -School Library Journal

"The wart-nosed witch and her passengers make magic that is sure to please. Effective use of brilliant colors set against well-conceived backgrounds detail the story without need for text—but with it, the story—and the broom—take off." -Kirkus Reviews 

"In this lightweight, witty story, helpful animals find "room on the broom" of a generous witch." -Publishers Weekly
Room on the Broom (Paperback)
How to tell if a book is in stock...
"On Our Shelves Now" means yes, we have it on hand, order away!
"Ships in 1-5 days" means we sold our last copy, but more are easily available so still, order away!!
"Special Order" means it may be out of print or hard to get. Call the store to get more information from a Bookseller.

Not sure and want to double check? Be Savvy! Call and ask one of our booksellers for more details.