How to tell if a book is in stock...
"On Our Shelves Now" means yes, we have it on hand, order away!
"Ships in 1-5 days" means we sold our last copy, but more are easily available so still, order away!!
"Special Order" means it may be out of print or hard to get. Call the store to get more information from a Bookseller.

Not sure and want to double check? Be Savvy! Call and ask one of our booksellers for more details.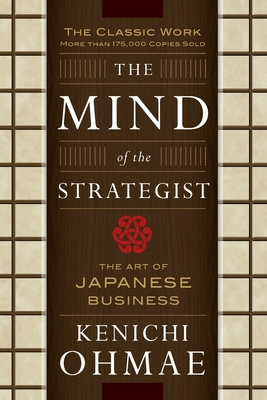 $26.00
Usually Ships in 1-5 Days
Description
---
This book, full of actual examples, aims to bring to life all of the dynamic, subtlety, and variety of business strategy as it is practiced in the real world and in real companies. The author does not purport to be inventing strategy in this book or to be revealing the secrets of Japanese business and strategic planning. Rather, he is exploring with the reader the ways in which the strategist must think, the key principles and thought patterns that real-world strategists have used to move their companies forward in Japan and throughout the world. He explores the relationship of the Strategic Triangle formed by the company, the customer, and the competition and shows how these factors must be the basis for all strategic thinking and planning.
About the Author
---
Internationally known as "Mr. Strategy," Kenichi Ohmae was a partner at McKinsey & Company for 23 years, and today he is chairman of Ohmae & Associates. He is the author of more than 100 books.
The Mind of the Strategist: The Art of Japanese Business (Paperback)