How to tell if a book is in stock...
"On Our Shelves Now" means yes, we have it on hand, order away!
"Ships in 1-5 days" means we sold our last copy, but more are easily available so still, order away!!
"Special Order" means it may be out of print or hard to get. Call the store to get more information from a Bookseller.

Not sure and want to double check? Be Savvy! Call and ask one of our booksellers for more details.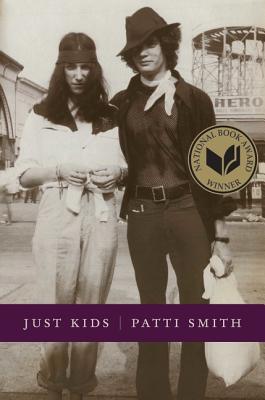 Description
---
WINNER OF THE NATIONAL BOOK AWARD
It was the summer Coltrane died, the summer of love and riots, and the summer when a chance encounter in Brooklyn led two young people on a path of art, devotion, and initiation.

Patti Smith would evolve as a poet and performer, and Robert Mapplethorpe would direct his highly provocative style toward photography. Bound in innocence and enthusiasm, they traversed the city from Coney Island to Forty-Second Street, and eventually to the celebrated round table of Max's Kansas City, where the Andy Warhol contingent held court. In 1969, the pair set up camp at the Hotel Chelsea and soon entered a community of the famous and infamous, the influential artists of the day and the colorful fringe. It was a time of heightened awareness, when the worlds of poetry, rock and roll, art, and sexual politics were colliding and exploding. In this milieu, two kids made a pact to take care of each other. Scrappy, romantic, committed to create, and fueled by their mutual dreams and drives, they would prod and provide for one another during the hungry years.

Just Kids begins as a love story and ends as an elegy. It serves as a salute to New York City during the late sixties and seventies and to its rich and poor, its hustlers and hellions. A true fable, it is a portrait of two young artists' ascent, a prelude to fame.
About the Author
---
Patti Smith is a writer, performer, and visual artist. She gained recognition in the 1970s for her revolutionary mergence of poetry and rock and was inducted into the Rock & Roll Hall of Fame in 2007. Her seminal album Horses, bearing Robert Mapplethorpe's renowned photograph, hasbeen hailed as one of the top one hundred albums of all time. Her books include M Train, Witt, Babel, Woolgathering, The Coral Sea, and Auguries of Innocence.
Praise For…
---
"[Just Kids] reminds us that innocence, utopian ideals, beauty and revolt are enlightenment's guiding stars in the human journey. Her book recalls, without blinking or faltering, a collective memory — one that guides us through the present and into the future."
— Michael Stipe, Time magazine

"Reading rocker Smith's account of her relationship with photographer Robert Mapplethorpe, it's hard not to believe in fate. How else to explain the chance encounter that threw them together, allowing both to blossom? Quirky and spellbinding."
— People, Top 10 Books of 2010

"The most enchantingly evocative memoir of funky-but-chic New York in the late 1960s and early 1970s that any alumnus has yet committed to print."
— Janet Maslin's top 10 books of 2010, New York Times

"Composed of incandescent sentences more revelatory than anything from Patti Smith's poems or songs, her romantic memoir also reveals what blunt narrative instruments the earlier career bios of her and photographer Robert Mapplethorpe have been."
— Village Voice, Best Books of 2010 Round-Up

"Smith's beautifully crafted love letter to her friend Robert Mapplethorpe functions as a memento mori of a relationship fueled by passion for art and writing. Her elegant eulogy lays bare the chaos and the creativity so embedded in that earlier time and in Mapplethorpe's life and work."
— Publishers Weekly, Top Ten Books of the Year

"Poetically written and vividly remembered. [Smith] reminded me of the idealism of art."
— Matthew Weiner, creator of MAD MEN, in New York magazine

"A spellbinding portrait of bohemian New York in the late 1960s and early '70s."
— New York Times Book Review, Paperback Row

"One of the best things I've ever read in my life."
— Don Imus

"Sometimes there is justice in the world. That was my first thought when I heard that Patti Smith had won the National Book Award this fall for her glorious memoir, Just Kids."
— Maureen Corrigan's favorite books of 2010, NPR's Fresh Air

"[JUST KIDS] offers a revealing account of the fears and insecurities harbored by even the most incendiary artists, as well as their capacity for reverence and tenderness."
— USA Today

"Smith's writing about her early days with Mapplethorpe is fervid and incantatory but never falls into incoherence."
— The Oregonian (Portland)

"A heartbreakingly sweet recollection of just that sort of vanished Bohemian life...Just as [Smith] stands out as an artiste in a movement based on collectivism, her singular voice gleams among rock memoirs as a work of literature."
— Boston Globe

"Just Kids shows how Smith integrated the romance of her twenty-year friendship with Mapplethorpe with her historical preoccupations, elevating them to an almost sacred status. The past, for Smith, has always driven her life forward. If only we could all be so free-spirited."
— The Rumpus

"Patti Smith's telling of the years she spent with Robert Mapplethorpe is full of optimism sprinkled with humor...JUST KIDS...is sorely lacking in irony or cynicism; Smith's worldview is infectious. She's a jumble of influences, but that's part of her charm."
— Austin American-Statesman

"A moving portrait of the artist as a young woman, and a vibrant profile of Smith's onetime boyfriend and lifelong muse, Robert Mapplethorpe, who died of AIDS in 1989...JUST KIDS is ultimately a wonderful portal into the dawn of Smith's art."
— Los Angeles Times

"A remarkable book --sweet and charming and many other words you wouldn't expect to apply to a punk-rock icon."
— Newsday

" A story of art, identity, devotion, discovery, and love, the book is [Smith's] first prose work...[it] conjures up the passionate collaboration--as lovers, friends, soul mates, and creators--that she and Mapplethorpe embarked on from the summer they met in Brooklyn in 1967."
— Elle

"Deeply affecting...a vivid portrayal of a bygone New York that could support a countercultural artistic firmament...the power of this book comes from [Smith's] ability to recall lucid memories in straightforward prose."
— BookForum

"Funny, fascinating, oddly tender."
— O, The Oprah Magazine

"Patti Smith's memoir of her youth with Robert Mapplethorpe testifies to a rare and ferocious innocence...'Just Kids' is a book utterly lacking in irony or sophisticated cynicism."
— Salon.com

"A shockingly beautiful book...a classic, a romance about becoming an artist in the city, written in a spare, simple style of boyhood memoirs like Frank Conroy's 'Stop Time.'"
— New York Magazine

"[A] beautifully crafted love letter to [Robert Mapplethorpe]...Smith transports readers to what seemed like halcyon days for art and artists in New York...[a] tender and tough memoir...[an] elegant eulogy."
— Publishers Weekly (starred review)

"Riveting and exquisitely crafted."
— Kirkus Reviews (starred review)

"Captivating....a poignant requiem...and a radiant celebration of life. Grade: A."
— Entertainment Weekly

"More than 30 years after its release, Horses still has the power to shock and inspire young musicians to express themselves with unbridled passion. Now she brings the same raw, lyrical quality to her first book of prose."
— Clive Davis, Vanity Fair

"In the end, [JUST KIDS is] not just an ode to Mapplethorpe, but a love letter to New York City's '70s art scene itself."
— Time Out New York

"The most compelling memoir by a rock artist since Bob Dylan's 'Chronicles: Volume One,' written with intimacy and grace...."
— Chicago Tribune

"Astonishing on many levels, most notably for Smith's lapidary prose....[JUST KIDS] is simply one of the best memoirs to be published in recent years: inspiring, sad, wise and beautifully written."
— San Francisco Chronicle

"[JUST KIDS] is funny and sad but always exhilarating."
— Tampa Tribune

"Terrifically evocative and splendidly titled...the most spellbinding and diverting portrait of funky-but-chic New York in the late '60s and early '70s that any alumnus has committed to print....This enchanting book is a reminder that not all youthful vainglory is silly; sometimes it's preparation."
— New York Times Book Review

"A touching tale of love and devotion."
— Lisa Ko, author of The Leavers

"JUST KIDS describes [Smith and Mapplethorpe's] ascent with a forthright sweetness that will ring true to anyone who knows her work."
— Bloomberg.com

"To read JUST KIDS is to be struck by how powerfully the two, especially Smith, believed in the power of art....Despite her music's angry clamor, despite his sometimes revolting images, Smith and Mapplethorpe retain, in her telling, a primal, childlike innocence."
— Dallas Morning News

"One of the best books ever written on becoming an artist...Jesus may have died for somebody's sins, but Patti Smith lives and writes and sings for all of us."
— Washington Post

"Remarkable, evocative... JUST KIDS is more than just a gift to [Smith's] ex-lover; it's a gift to everyone who has ever been touched by their art, and to everyone who's ever been in love. Like the best of Smith's music and Mapplethorpe's art, this book is haunting and unforgettable."
— NPR Boston

"A revelation. In a spellbinding memoir as notable for its restraint as for its lucidity, its wit as well as its grace, Smith tells the story of how she and Robert Mapplethorpe found each other... beautifully crafted, vivid, and indelible."
— Booklist

"An utterly charming, captivating, intimate portrait of a late 1960s and early 1970s period of intense artistic ferment in downtown Manhattan significantly shaped and keenly observed by rock firebrand Smith."
— Philadelphia Inquirer

"Smith lovingly depicts the denizens of the Chelsea Hotel - is that Janis Joplin at the bar? - and the rock club CBGB, all the while pondering how to be an uncompromising artist who nonetheless needs to pay the rent."
— Boston Globe
Coverage from NPR
Just Kids (Hardcover)