How to tell if a book is in stock...
"On Our Shelves Now" means yes, we have it on hand, order away!
"Ships in 1-5 days" means we sold our last copy, but more are easily available so still, order away!!
"Special Order" means it may be out of print or hard to get. Call the store to get more information from a Bookseller.

Not sure and want to double check? Be Savvy! Call and ask one of our booksellers for more details.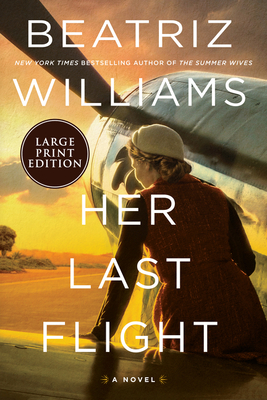 Description
---
One of Summer's Most Anticipated Reads, according to Goodreads, SheReads, and Bookish
"I think Beatriz Williams is writing the best historical fiction out there. It's lush with period detail but feels immediate."—Elin Hilderbrand
The beloved author returns with a remarkable novel of both raw suspense and lyric beauty— the story of a lost pilot and a wartime photographer that will leave its mark on your soul. 

In 1947, photographer and war correspondent Janey Everett arrives at a remote surfing village on the Hawaiian island of Kauai to research a planned biography of forgotten aviation pioneer Sam Mallory, who joined the loyalist forces in the Spanish Civil War and never returned. Obsessed with Sam's fate, Janey has tracked down Irene Lindquist, the owner of a local island-hopping airline, whom she believes might actually be the legendary Irene Foster, Mallory's onetime student and flying partner. Foster's disappearance during a round-the-world flight in 1937 remains one of the world's greatest unsolved mysteries. 
At first, the flinty Mrs. Lindquist denies any connection to Foster. But Janey informs her that the wreck of Sam Mallory's airplane has recently been discovered in a Spanish desert, and piece by piece, the details of Foster's extraordinary life emerge: from the beginnings of her flying career in Southern California, to her complicated, passionate relationship with Mallory, to the collapse of her marriage to her aggressive career manager, the publishing scion George Morrow.
As Irene spins her tale to its searing conclusion, Janey's past gathers its own power. The duel between the two women takes a heartstopping turn. To whom does Mallory rightfully belong? Can we ever come to terms with the loss of those we love, and the lives we might have lived?
About the Author
---
Beatriz Williams is the bestselling author of thirteen novels, including Her Last Flight, The Summer Wives, and The Golden Hour, as well as All the Ways We Said Goodbye, cowritten with Lauren Willig and Karen White. A native of Seattle, she graduated from Stanford University and earned an MBA in finance from Columbia University. She lives with her husband and four children near the Connecticut shore, where she divides her time between writing and laundry.
Praise For…
---
"The Golden Hour is pure golden delight Beatriz Williams is at the top of her game."
— Kate Quinn, New York Times bestselling author of The Alice Network

"I think Beatriz Williams is writing the best historical fiction out there. It's lush with period detail but feels immediate." 
— Elin Hilderbrand

"Williams imagines the adventures of a world-famous aviator, who disappears in 1937 during a solo, around-the-world flight, in this engaging tale of courage, intrigue, and adventure…Williams builds irresistible tension with the alternating timelines as the fate of Irene and Sam unfolds with shrewd twists and turns that build to an unexpected jolt. Williams's fans will devour this meaty tale."
— Publishers Weekly (starred review)

"Beatriz Williams deftly fits together the characters, stories, and themes that the narrative services into a cohesive whole. The pieces all align perfectly, and she has shaped them together brilliantly. Her Last Flight is a gem of a book."
— New York Journal of Books  

"Inventive...What if Amelia Earhart had not only survived her last flight, but found true romance." 
— Kirkus Reviews
Her Last Flight (Large Print / Paperback)