How to tell if a book is in stock...
"On Our Shelves Now" means yes, we have it on hand, order away!
"Ships in 1-5 days" means we sold our last copy, but more are easily available so still, order away!!
"Special Order" means it may be out of print or hard to get. Call the store to get more information from a Bookseller.

Not sure and want to double check? Be Savvy! Call and ask one of our booksellers for more details.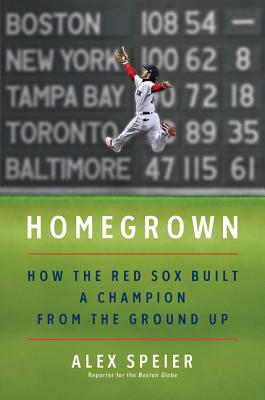 Description
---
"Alex Speier spins a compelling narrative about how great scouting and player development created a perennial contender in baseball's toughest division, without losing sight of the people at the heart of his story." — Keith Law

The captivating inside story of the historic 2018 Boston Red Sox, as told through the assembly and ascendancy of their talented young core—the culmination of nearly a decade of reporting from one of the most respected baseball writers in the country.
The 2018 season was a coronation for the Boston Red Sox. The best team in Major League Baseball—indeed, one of the best teams ever—the Sox won 108 regular season games and then romped through the postseason, going 11-3 against the three next-strongest teams baseball had to offer.
As Boston Globe baseball reporter Alex Speier reveals, the Sox' success wasn't a fluke—nor was it guaranteed. It was the result of careful, patient planning and shrewd decision-making that allowed Boston to develop a golden generation of prospects—and then build upon that talented core to assemble a juggernaut. Speier has covered the key players—Mookie Betts, Andrew Benintendi, Xander Bogaerts, Rafael Devers, Jackie Bradley Jr., and many others—since the beginning of their professional careers, as they rose through the minor leagues and ultimately became the heart of this historic championship squad. Drawing upon hundreds of interviews and years of reporting, Homegrown is the definitive look at the construction of an extraordinary team.
It is a story that offers startling insights for baseball fans of any team, and anyone looking for the secret to building a successful organization. Why do many highly touted prospects fail, while others rise out of obscurity to become transcendent? How can franchises help their young talent, in whom they've often invested tens of millions of dollars, reach their full potential? And how can management balance long-term aims with the constant pressure to win now?
Part insider's account of one of the greatest baseball teams ever, part meditation on how to build a winner, Homegrown offers an illuminating look into how the best of the best are built.
About the Author
---
Alex Speier has covered the Red Sox for more than fifteen years, the last four at the Boston Globe. He has also reported on the Red Sox minor league system for Baseball America since 2007.
Praise For…
---
"Alex Speier is one of the few writers I'd read on any topic, and he's written a fascinating book about a historic season. The jaw-dropping anecdotes and juicy behind-the-scenes details will make this a must-read for Red Sox fans; the powerful, nuanced description of why team building is so important -- not just in baseball or sports, but life in general--will make it a classic for everyone else."
— Seth Mnookin, bestselling author of Feeding the Monster

"I get to read Alex Speier almost daily in the Boston Globe and have anxiously been waiting for his first book. It does not disappoint. If you love the Red Sox or just like baseball, this is the book for you. A deep dive into how the 119-win champion Red Sox were built."
— Dan Shaughnessy, New York Times bestselling author of The Curse of the Bambino

"A tight, tense, and quite enjoyable story, almost like an adventure novel.... Well worth the read."
— Bookreporter.com

"Speier tracks the development of the [Red Sox] core from 2011 to their 2018 championship. ... The narrative of a team in the making delivers compelling reading. A must for Red Sox fans."
— Booklist

"A fascinating look at the building of an elite baseball club."
— Library Journal

"Alex Speier spins a compelling narrative about how great scouting and player development created a perennial contender in baseball's toughest division, without losing sight of the people at the heart of his story."
— Keith Law, author of Smart Baseball

"[Speier is] a talented and surprisingly non-biased observer of exactly how the juggernaut Red Sox... had been assembled. ... A welcome companion to help any baseball fan pass the cold winter months."
— Lincoln Journal Star

"With Homegrown, it is clear Alex Speier has put his time in, both in the clubhouse and in learning about this special core of young players that delivered another championship to Boston. This is a good book, merging the pressures of the field and the dealmaking of the front offices without shortchanging either one."
— HOWARD BRYANT, senior writer, ESPN the Magazine

"Describes how the succession of Theo Epstein, Ben Cherington and [Dave] Dombrowski built the 2018 champions. ... Well-written."
— New York Post

"A must read."
— Pittsburgh Tribune Review
Homegrown: How the Red Sox Built a Champion from the Ground Up (Hardcover)