The Shape of Family: A Novel (Hardcover)
How to tell if a book is in stock...
"On Our Shelves Now" means yes, we have it on hand, order away!
"Ships in 1-5 days" means we sold our last copy, but more are easily available so still, order away!!
"Special Order" means it may be out of print or hard to get. Call the store to get more information from a Bookseller.

Not sure and want to double check? Be Savvy! Call and ask one of our booksellers for more details.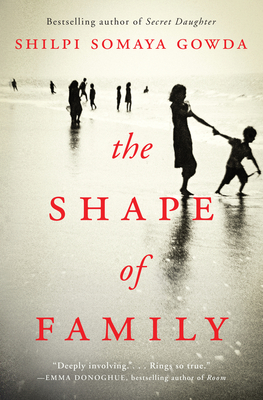 Description
---
NATIONAL & INTERNATIONAL BESTSELLER
Named a book not to miss by USA Today * Chicago Sun-Times * New York Post

"Deeply involving....Rings so true." -- Emma Donoghue, bestselling author of Room

From the international bestselling author of Secret Daughter and The Golden Son comes a poignant, unforgettable novel about a family's growing apart and coming back together in the wake of tragedy.
"The Shape of Family is a novel about race and culture, parents and siblings, marriage and love, but most of all, it's about finding hope after darkness. Shilpi Somaya Gowda is a compassionate and wise storyteller who keeps us riveted from beginning to end." -- Jean Kwok, New York Times bestselling author of Girl in Translation
The Olander family embodies the modern American Dream in a globalized world. Jaya, the cultured daughter of an Indian diplomat and Keith, an ambitious banker from middle-class Philadelphia, meet in a London pub in 1988 and make a life together in suburban California. Their strong marriage is built on shared beliefs and love for their two children: headstrong teenager Karina and young son Prem, the light of their home.
But love and prosperity cannot protect them from sudden, unspeakable tragedy, and the family's foundation cracks as each member struggles to seek a way forward. Jaya finds solace in spirituality. Keith wagers on his high-powered career. Karina focuses relentlessly on her future and independence. And Prem watches helplessly as his once close-knit family drifts apart.
When Karina heads off to college for a fresh start, her search for identity and belonging leads her down a dark path, forcing her and her family to reckon with the past, the secrets they've held and the weight of their choices.
The Shape of Family is an intimate portrayal of four individuals as they grapple with what it means to be a family and how to move from a painful past into a hopeful future. It is a profoundly moving exploration of the ways we all seek belonging—in our families, our communities and ultimately, within ourselves.
About the Author
---
Shilpi Somaya Gowda was born and raised in Toronto, Canada. Her previous novels, Secret Daughter and The Golden Son became international bestsellers, selling over one million copies worldwide. She holds an MBA from Stanford University and a Bachelor's Degree in Economics from the University of North Carolina at Chapel Hill, where she was a Morehead-Cain scholar. She lives in California with her husband and children.
Praise For…
---
"Gowda renders even the worst decisions made by the Olanders with compassion and insight, so much so that rooting for them — despite and because of their fragility — becomes a pleasure. I know these characters, and I love them, and for some unnameable hours in this uneasy spring, their journey from life, to death, to life was also mine. What a gift, to be that transported, and, eventually — blessedly — transformed."
— San Francisco Chronicle

"This beautifully written, poignant novel explores how one loving family deals with an unspeakable tragedy. It's a novel about race and culture, parents and siblings, marriage and love, but most of all, it's about finding hope after darkness. Shilpi Somaya Gowda is a compassionate and wise storyteller who keeps us riveted from beginning to end."
— Jean Kwok, New York Times bestselling author of Girl in Translation

"A moving exploration of how loss can change the contours of a life. Gowda deftly examines the forces that can make and remake a family in this engrossing page turner of a novel."
— Thrity Umrigar, author of The Secrets Between Us

"Not simply a story about tragedy or even the dangers of fervent devotion, but a story about mourning in all its myriad forms."
— San Diego Union-Tribune

"In prose of quiet beauty, Shilpi Somaya Gowda drills down into the American Dream and comes up with pure gold. You will cry, rage, worry, and come to love the members of the Olander family."
— Tatjana Soli, author of The Lotus Eaters

"A deeply involving story of a family falling apart, THE SHAPE OF FAMILY rings so true."
— Emma Donoghue, bestselling author of Room

"An unforgettable portrait of a family's loss, longing, and reconstruction. Haunting and beautiful, THE SHAPE OF FAMILY takes hold of you from the first page and does not let go."
— Lawrence Hill, author of Someone Knows My Name

"Thought-provoking to the core, The Shape of Family is both a warning about how our lives can change in an instant and a testament to the strength we must summon to keep a family whole."
— Washington Independent Review of Books

"Gowda traces the fallout lines with compassion and a keen eye for the lies we tell ourselves to avoid facing our own demons...A deft, patient portrait of grief."
— Kirkus Reviews

"Rendered with compassion, this is a compelling testament to a family's struggle to find solace."
— Booklist

"Gowda's descriptions of their grief, coping mechanisms and bad decisions are as compassionate as they are profound. This is clearly a writer who has studied the full spectrum of human emotion, but even more impressive is her ability to render it so beautifully on the page."
— Book Reporter

"Sympathetic and inspiring, this intimate story is bound to stick with you."
— Ms. Magazine

"A moving story that reflects the trials of families everywhere … The result is a rich and engrossing novel about normal people trying to live their lives."
— BookTrib