The Unbreakables: A Novel (Hardcover)
How to tell if a book is in stock...
"On Our Shelves Now" means yes, we have it on hand, order away!
"Ships in 1-5 days" means we sold our last copy, but more are easily available so still, order away!!
"Special Order" means it may be out of print or hard to get. Call the store to get more information from a Bookseller.

Not sure and want to double check? Be Savvy! Call and ask one of our booksellers for more details.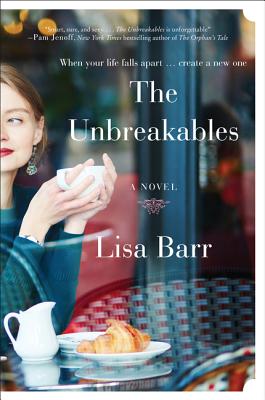 $26.99
Usually Ships in 1-5 Days
Description
---
A delicious, sharp novel about a woman who jets off to France after her perfect marriage collapses, putting the broken pieces of herself back together while rediscovering her own joie de vivre—a lust for life, art, and steamy sex. 
"Artful, feminist, and emotionally gripping. The Unbreakables is a remarkable tribute to a woman's strength in the face of heartbreak and adversity." — Helen Hoang, author of The Kiss Quotient

The worst birthday ever might just be the gift of a lifetime…
It's Sophie Bloom's forty-second birthday, and she's ready for a night of celebration with Gabe, her longtime, devoted husband, and her two besties and their spouses. Dinner is served with a side of delicious gossip, including which North Grove residents were caught with their pants down on Ashley Madison after the secret on-line dating site for married and committed couples was hacked. Thirty-two million cheaters worldwide have been exposed…including Sophie's "perfect" husband. To add insult to injury, she learns Gabe is the top cheater in their town. 
Humiliated and directionless, Sophie jumps into the unknown and flees to France to meet up with her teenage daughter who is studying abroad and nursing her own heartbreak. After a brief visit to Paris, Sophie heads out to the artist enclave of Saint-Paul-de-Vence. There, for the first time in a long time, Sophie acknowledges her own desires—not her husband's, not her daughter's—and rediscovers her essence with painful honesty and humor, reawakening both her sensuality and ambitions as a sculptor. 
As she sheds her past and travels the obstacle-filled off beaten path, Sophie Bloom is determined to blossom. Allowing her true self to emerge in the postcard beauty of Provence, Sophie must decide what is broken forever...and what it means to be truly unbreakable.
About the Author
---
Lisa Barr has been an editor at The Jerusalem Post,  Today's Chicago Woman, and  Moment magazine, and an editor/reporter for the Chicago Sun-Times. Among the highlights of her career, Lisa covered the famous "handshake" between the late Israeli Prime Minister Yitzhak Rabin, the late PLO leader Yasser Arafat, and President Bill Clinton at the White House. Lisa is also the creator and editor of the popular parenting blog, GIRLilla Warfare. She has been featured on Good Morning America, Today, Fox & Friends, and Australia TV for her work as an author, journalist and blogger. She lives in the Chicago area with her husband and three daughters (aka: Drama Central).
Praise For…
---
"Readers will delight in this effervescent cocktail of second chances, female strength, mother-daughter bonding and the truths that set us free.  Smart, sure and sexy, The Unbreakables is unforgettable."
— — Pam Jenoff, NYT bestselling author of The Orphan's Tale

"Lisa Barr has written a fun, sexy, satisfying tale of a woman getting her groove back. From the Rodin Museum in Paris to the South of France, The Unbreakables has unexpected moments of warmth and human connection, and charts a woman's journey back to herself."
— — Cristina Alger, USA Today bestselling author of The Banker's Wife

"The Unbreakables is a sensual, evocative story about a woman scorned taking the necessary risks to find herself again. From the suburbs of Chicago to the south of France, Barr takes us on an exhilarating journey through love, lust, betrayal, friendship and family. A fabulous read!"
— — Elyssa Friedland, author of The Intermission

"Artful, feminist, and emotionally gripping. The Unbreakables is a remarkable tribute to a woman's strength in the face of heartbreak and adversity."
— — Helen Hoang, author of The Kiss Quotient

"Sit back and enjoy this sexy and satisfying read about a woman who has no choice but to start over after a massive betrayal. The Unbreakables by Lisa Barr is an empowering read about love, sex, friendship, and everything in between."
— — Brenda Janowitz, Popsugar

The Unbreakables offers a compelling midlife coming of age story that takes readers from a Chicago suburb to Paris and on to the enticing south of France.  Lisa Barr's exceptional contemporary storytelling delivers unforgettable characters, surprising twists and a passionate tale of self-discovery and forgiveness that will resonate long after the last page is turned.
— — Patricia Sands, author of the bestselling Love in Provence series

"This exquisitely wrought novel will appeal to readers who believe in the redemption of new beginnings." 
— — Publishers Weekly

"The Unbreakables is a well-crafted novel about heartbreak, passion, and reclaiming one's life. The strength of this novel lies in the way Sophie's emotions almost radiate from the page."
— Booklist

Barr's latest (after Fugitive Colors) is full of vivid details that transport readers from a Chicago suburb to the art world in France. For fans of women's fiction in the style of Kristin Hannah.
— Library Journal