How to tell if a book is in stock...
"On Our Shelves Now" means yes, we have it on hand, order away!
"Ships in 1-5 days" means we sold our last copy, but more are easily available so still, order away!!
"Special Order" means it may be out of print or hard to get. Call the store to get more information from a Bookseller.

Not sure and want to double check? Be Savvy! Call and ask one of our booksellers for more details.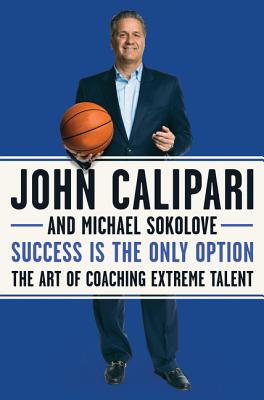 Description
---
Kentucky's charismatic coach shares the secrets of creating one of the premiere programs in college basketball, revealing how he transforms a group of former high school superstars into selfless, cohesive teams—including a remarkable squad last year that fell just one game short of a perfect season.
Kentucky basketball coach John Calipari is known for his unparalleled ability to recruit the nation's best young players, some of whom will spend just one year with him before going to the NBA, and convincing them to commit to the team without sacrificing their personal goals. It is a promise he makes to them: "Fully invest in the present—and each other—and I guarantee it will serve your future."
Here, for the first time, he distills his team-building methods in ways that apply to CEOs, business owners, coaches, teachers and leaders of all kinds—lessons for anyone seeking to inspire talented individuals to reach for their best selves and contribute to a greater good.
A basketball team is an intimate workplace, in which blend is everything and character matters. As such, it is a window into the nature of successful leadership. Calipari views each new team like a startup business—one composed of new players, new relationships, and new challenges. Each season is a series of discoveries as he learns how to unleash the extreme talent in each of his players and mold them into championship material as college basketball comes to a crescendo every spring. While he can't control everything, he is responsible for everything—just like a CEO.
An enlightening look at leadership, management, and team building, Success Is the Only Option offers the keys to winning, on and off the court.
About the Author
---
John Calipari is the head coach of men's basketball at the University of Kentucky. He led the Kentucky Wildcats to the 2012 national championship and has been to a total of six Final Fours in his career, including four in a five-year period. He was inducted into the Naismith Memorial Basketball Hall of Fame in 2015. He lives in Lexington, Kentucky.
Praise For…
---
"Take a look at and derive insight from the modern world of college basketball and the unique and successful formula applied by one of our nation's most gifted coaches. It's a rare experience."
— Bill Parcells, Pro Football Hall of Famer and two-time Super Bowl-winning head coach

"Coach Calipari has taken a generational phenomenon of coaching extreme talent to another level of extreme success. Without his tipping-point thinking and mindfulness of what he has to do to coach his players, it would not work. He makes it work."
— Pat Riley, former Kentucky Wildcat, five-time NBA champion head coach, a Naismith Memorial Basketball Hall of Famer, and current team president of the Miami Heat

"Coach Cal provides a unique view behind the curtain into one of the country's top basketball programs. The lessons of leading, motivating, and molding highly talented young men into an unselfish, high-performance team will benefit anyone in a leadership position."
— Junior Bridgeman, former professional basketball star and successful entrepreneur
Success Is the Only Option: The Art of Coaching Extreme Talent (Paperback)