After Me Comes the Flood: A Novel (Paperback)
How to tell if a book is in stock...
"On Our Shelves Now" means yes, we have it on hand, order away!
"Ships in 1-5 days" means we sold our last copy, but more are easily available so still, order away!!
"Special Order" means it may be out of print or hard to get. Call the store to get more information from a Bookseller.

Not sure and want to double check? Be Savvy! Call and ask one of our booksellers for more details.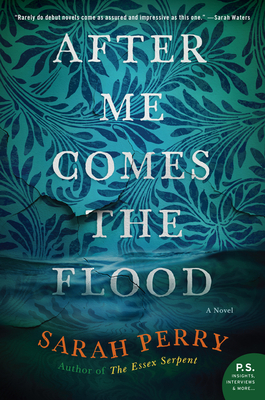 Description
---
"A beautiful, dream-like, unsettling narrative in which every word, like a small jewel, feels carefully chosen, considered and placed. Rarely do debut novels come as assured and impressive as this one." —Sarah Waters, New York Times bestselling author of The Paying Guests
Elegant, sinister and psychologically complex, After Me Comes the Flood is the haunting debut novel by the bestselling author of The Essex Serpent and Melmoth.
One hot summer's day, John Cole decides to shut his bookshop early, and possibly forever, and drives out of London to see his brother. When his car breaks down on an isolated road, he goes looking for help and finds a dilapidated house. As he approaches, a laughing woman he's never seen before walks out, addresses him by name and explains she's been waiting for him. Entering the home, John discovers an enigmatic clan of residents all of whom seem to know who he is, and also claim they have been awaiting his arrival. They seem to be waiting for something else, too—something final…
Written before Sarah Perry's ascension to an internationally bestselling author, After Me Comes the Flood is a spectacular novel of obsession, conviction and providence. 
About the Author
---
Sarah Perry is the internationally bestselling author of The Essex Serpent and After Me Comes the Flood. She lives in England.
Praise For…
---
"Like Shirley Jackson, Carmen Maria Machado, and other evocative masters of the gothic, Perry circles closer to answers without ever dispelling the magic that holds her narrative in breathless suspense. A mysterious fable about honesty and deceit, love and self-loathing, and our sometimes-doomed quests for inner peace."

— Kirkus Reviews

"A beautiful, dream-like, unsettling narrative in which every word, like a small jewel, feels carefully chosen, considered and placed. Rarely do debut novels come as assured and impressive as this one."
— Sarah Waters

"A dark, marvelous novel…pour yourself a cool drink and bask in a dazzling new writing talent."
— Daily Telegraph

"Deeply creepy and startlingly well-written."
— Times Literary Supplement

"Inexplicably gripping from the first page …a hypnotic performance with an understated, dreamlike conviction."
— Sunday Times

"Impressive....Casts a spell that is at once sinister and seductive...We search for our own meaning while succumbing to Perry's elegant prose and dark magic."
— Minneapolis Star Tribune

"A taut summer thriller."
— Harper's Bazaar

"Will haunt the reader long after the final page."
— Guardian

"An original and haunting book…a mix of elegant, alluring, but subtly sinister characters…a talented writer." 
— Daily Mail (UK)

"Perry's work harnesses the mythic power of religious and historical texts to lend weight and wonderment…she is adept at peeling back the skin to reveal a detailed anatomy of psychological motivation…A gripping, memorable, impressive debut." 
— Independent on Sunday (UK)

"Atmospheric, haunting, disturbing."
— Wall Street Journal