How to tell if a book is in stock...
"On Our Shelves Now" means yes, we have it on hand, order away!
"Ships in 1-5 days" means we sold our last copy, but more are easily available so still, order away!!
"Special Order" means it may be out of print or hard to get. Call the store to get more information from a Bookseller.

Not sure and want to double check? Be Savvy! Call and ask one of our booksellers for more details.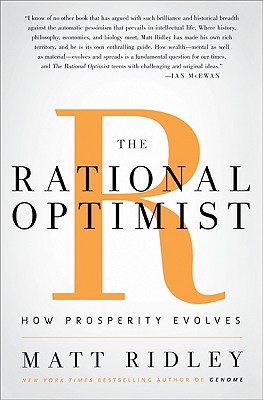 Description
---
"Ridley writes with panache, wit, and humor and displays remarkable ingenuity in finding ways to present complicated materials for the lay reader." — Los Angeles Times
In a bold and provocative interpretation of economic history, Matt Ridley, the New York Times-bestselling author of Genome and The Red Queen, makes the case for an economics of hope, arguing that the benefits of commerce, technology, innovation, and change—what Ridley calls cultural evolution—will inevitably increase human prosperity. Fans of the works of Jared Diamond (Guns, Germs, and Steel), Niall Ferguson (The Ascent of Money), and Thomas Friedman (The World Is Flat) will find much to ponder and enjoy in The Rational Optimist.
About the Author
---
MATT RIDLEY is the award-winning, bestselling author of The Evolution of Everything: How New Ideas Emerge, The Rational Optimist: How Prosperity Evolves, Genome: The Autobiography of a Species in 23 Chapters, and The Red Queen: Sex and the Evolution of Human Nature. His books have sold more than one million copies in thirty languages worldwide. He has written for the Wall Street Journal and the Times of London as well as the Economist. He is a member of the House of Lords and lives in Newcastle and London.
Praise For…
---
"A superb book…Elegant, learned, and cogent…a far-reaching synthesis of economics and ecology, a triumphant new demarche in the understanding of wealth and poverty…Inspiring."
— George Gilder, National Review

"A very good book…a rich analysis…Ridley is a cogent and erudite social critic…He bolsters his argument with an impressive tour of evolutionary biology, economics, philosophy, world history."
— Washington Post

"A fast-moving, intelligent description of why human life has so consistently improved over the course of history, and a wonderful overview of how human civilizations move forward."
— John Tierney, New York Times

"A delightful and fascinating book filled with insight and wit, which will make you think twice and cheer up."
— Steven Pinker

"The Rational Optimist teems with challenging and original ideas…No other book has argued with such brilliance and historical breadth against the automatic pessimism that prevails in intellectual life."
— Ian McEwan

"Ridley eloquently weaves together economics, archeology, history, and evolutionary theory…His words effortlessly turn complicated economic and scientific concepts into entertaining, digestible nuggets."
— Barrett Sheridan, Newsweek

"Invigorating…For Mr. Ridley, the market for ideas needs to be as open as possible in order to breed ingenuity from collaboration."
— Trevor Butterworth, Wall Street Journal

"The Rational Optimist will give a reader solid reasons for believing that the human species will overcome its economic, political and environmental woes during this century."
— Fort Worth Star-Telegram

"This inspiring book, a glorious defense of our species…is a devastating rebuke to humanity's self-haters."
— Sunday Times (London)

"Original, clever and …controversial"
— The Guardian

"A dose of just the kind of glass-half-full information we need right now…A powerful antidote to gloom-n-doom-mongering."
— Washington Examiner

"A mesmerizing book."
— Los Angeles Times

"Ridley's dazzling, insightful and entertaining book on the unstoppable march of innovation is a refresher course in human history...Great ideas spring up unexpectedly from every direction, with each new one naturally coordinating with others..."
— New York Post

A fabulous new book... I was so delighted, amused and uplifted by it that I bought a couple hundred copies and sent one to all my clients.
— Donald Luskin, Smart Money
The Rational Optimist: How Prosperity Evolves (Hardcover)