How to tell if a book is in stock...
"On Our Shelves Now" means yes, we have it on hand, order away!
"Ships in 1-5 days" means we sold our last copy, but more are easily available so still, order away!!
"Special Order" means it may be out of print or hard to get. Call the store to get more information from a Bookseller.

Not sure and want to double check? Be Savvy! Call and ask one of our booksellers for more details.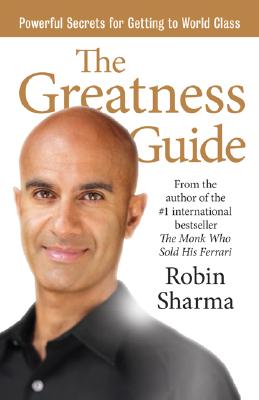 Description
---
Each one of us is called to greatness. We can have a significant impact on the world around us—if we so choose. If you are looking to craft an extraordinary life, The Greatness Guide is the powerful and practical handbook that will inspire you to get to world class in both your personal and professional life. Passionate, provocative, and full of big ideas that will challenge and inspire, The Greatness Guide is one of those rare books that will release your potential and awaken your best self.
Leaders, top entrepreneurs, and high-performance organizations in more than 40 countries have turned to Robin Sharma, one of the world's most trusted advisors on personal and business mastery, for his deeply insightful advice on getting to greatness. In this much-awaited book, you will get an insider's look at the tools, tactics, and techniques that have transformed so many of Robin's personal and organizational clients.
Make the leap today and learn what the best do to become even better. The Greatness Guide will show you exactly how to experience remarkable results in each of the important areas of your life while enjoying the journey of living. You will discover the personal practices of successful people, and learn necessary tools for achieving work-life balance. The Greatness Guide will help you meet your highest potential and live an extraordinary life.
About the Author
---
ROBIN SHARMA is a globally respected humanitarian. Widely considered one of the world's top leadership and personal optimization advisors, his clients include famed billionaires, professional sports superstars and many Fortune 100 companies. The author's #1 bestsellers such as The Monk Who Sold His Ferrari, The Greatness Guide and The Leader Who Had No Title, are in over 92 languages making him one of the most broadly read writers alive today.
Praise For…
---
"Feels like you're having a conversation with the author, leaving you inspired to live every day to the fullest."
— BookPage

"Sharma frames his wisdom in a friendly, accessible way that will appeal to readers at every level."
— Publishers Weekly

"Like having a really cool big brother show you the ropes on the first day of high school."
— New Age Retailer

An easy-to-digest 101-item buffet of life-altering advice.
— Play Magazine
The Greatness Guide: Powerful Secrets for Getting to World Class (Hardcover)