How to tell if a book is in stock...
"On Our Shelves Now" means yes, we have it on hand, order away!
"Ships in 1-5 days" means we sold our last copy, but more are easily available so still, order away!!
"Special Order" means it may be out of print or hard to get. Call the store to get more information from a Bookseller.

Not sure and want to double check? Be Savvy! Call and ask one of our booksellers for more details.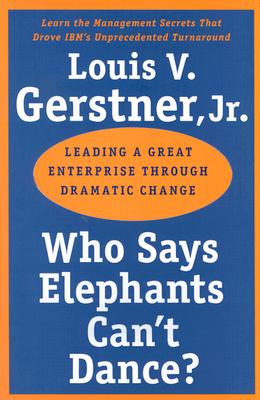 Description
---
Who Says Elephants Can't Dance? sums up Lou Gerstner's historic business achievement, bringing IBM back from the brink of insolvency to lead the computer business once again.Offering a unique case study drawn from decades of experience at some of America's top companies -- McKinsey, American Express, RJR Nabisco -- Gerstner's insights into management and leadership are applicable to any business, at any level. Ranging from strategy to public relations, from finance to organization, Gerstner reveals the lessons of a lifetime running highly successful companies.
About the Author
---
Lou Gerstner, Jr., served as chairman and chief executive officer of IBM from April 1993 until March 2002, when he retired as CEO. He remained chairman of the board through the end of 2002. Before joining IBM, Mr. Gerstner served for four years as chairman and CEO of RJR Nabisco, Inc. This was preceded by an eleven-year career at the American Express Company, where he was president of the parent company and chairman and CEO of its largest subsidiary. Prior to that, Mr. Gerstner was a director of the management consulting firm of McKinsey & Co., Inc. He received a bachelor's degree in engineering from Dartmouth College and an MBA from Harvard Business School.
Praise For…
---
"[Gerstner] entertains as he educates."
— New York Times Book Review

"A well-rendered self-portrait of a CEO who made spectacular change on the strength of personal leadership."
— Publishers Weekly

"Effective, to the point...Louis V. Gerstner Jr deserves his place in the management hall of fame."
— Financial Times

"The best business book I've ever read."
— Imus in the Morning

"[Lou Gerstner] has the substance of a genuine and ... interesting story."
— Wall Street Journal
Who Says Elephants Can't Dance?: Leading a Great Enterprise through Dramatic Change (Paperback)